welcome asgherco
ASGHAR TRADING CO
Importer & Exporter, Buyeing Agent, Distributor, Indentor
We deals in Import, Export, buying agent ,Consultant.The sector to be covers from

Textile machinery & Parts and Lab Instrument
Textile Spinning & Weaving Machinery Auxiliaries,Accessories.
Cotton Waste Recycle Plant & Machinery
Dust Filtration & A/c Plant & Machinery
Compact Yarn System,Siro Spun Yarn system & Slub Yarn Device
Yarn Steam System.
Consultant Spinning Plant,Machinery & Parts yearly contract bases
Export Item to be cover from;
Cotton Yarn
Cotton Fabrics
Yarn Dyeid fabrics
Flannel fabrics
Denim Fabrics
Handicrafts marble/onyx/wooden
Gift items in Marble/Onyx
Sole Agent
CHINA TEXMATECH CO.LTD.BEIJING CHINA

FOR CHANGLING LAB.INSTRUMENTS & COVERING MACHINE (LYCRA YARN COVERING & TWO FOR ONE TWISTER & WINDING MACHINE AND JINGWEI GROUP TEXTILE MACHINERY & PARTS.JW SPINDLE, CY BOBBIN, STEEL RING SEPCIAL PARTS FOR COMPACT SPINNING


Wuxi Pegasus Plastic Factory for "WX" Plastic Bobbin

Wuxi D&T Company : Textile Machinery & Parts
Dongtai Zhufeng Textile Machinery ACC.Mill Manufacture of Spindle Bolister
NONTONG WUZHOU MACHINERY MANUFACTURY CO.LTD.For Compact Top Roller,Draw Frame Arbours
Zhangzhou Tetxile Machinery Factory.mfg.of dyeing//finishing machinery/Blow Room and Carding Machinery FA221A & FA224A,FA225 etc

PURRDE Makina san.ve,tic.ltd.td.stl.mffg.of rotary printing machinery.
SANAL Plastic tic.ve.san.anonim stl.mfg.of all kind of plastic bobbin/tube/cone and waving accessories.

JINBO BOEKI SHOKAI -JAPAN.
Secondhand Textile Machinery

Euro Impex International U.K
Secondhand Textile Machinery

FIRMATEX-TAIWAN :
"FIRMATEX" they are producing more than 5000 spare parts for Textile spinning Machinery such as.1300 Items for Murata Mach coner,1500 spare parts schallforst autoconer 238 & 138,O.E.parts for Eletex BD200RN,RCE,RC & Autocoro SE7/SE8/SE9 and Reiter R1 and USTER & PAYEIR buffer & Knife etc.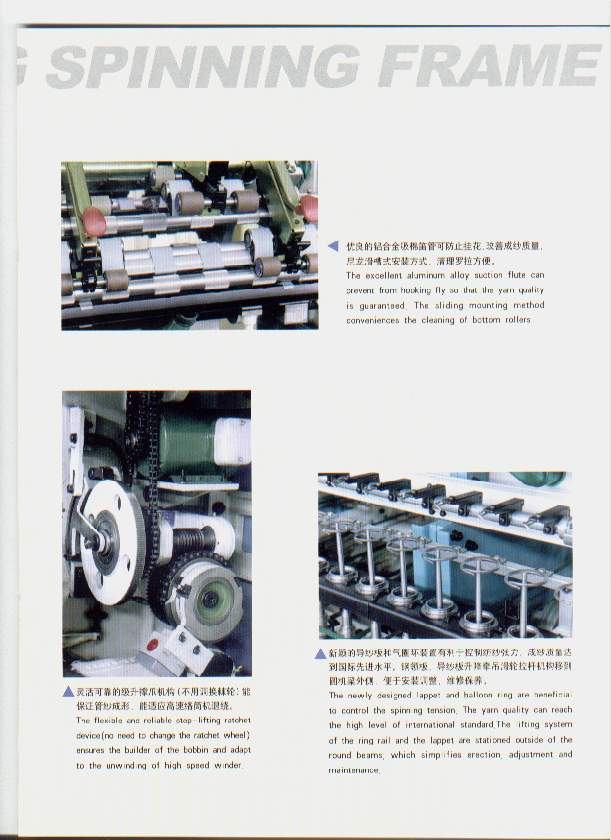 Textile Machinery Catalogues
If you need to see catalogues of any Textile Machinery contact us.
Buy & Sell New & Secondhand Textile Machinery listed by a month
If you are interested buy or sell any kind of Textile Machinery & Accessories please contact us.
we can solve your all problems in all of things.

we can prove that you can save upto 35% cost of your finished products.


Rotory Printing Machine Made in Turkey
If you are Interested in This Flat Rotory Printing Machinery suitable for 100% Cotton Knitted and Hoesery Fabrics